Hong Kong's Jamie Yeung Pushing Strength, Dreams Toward 2021 Olympics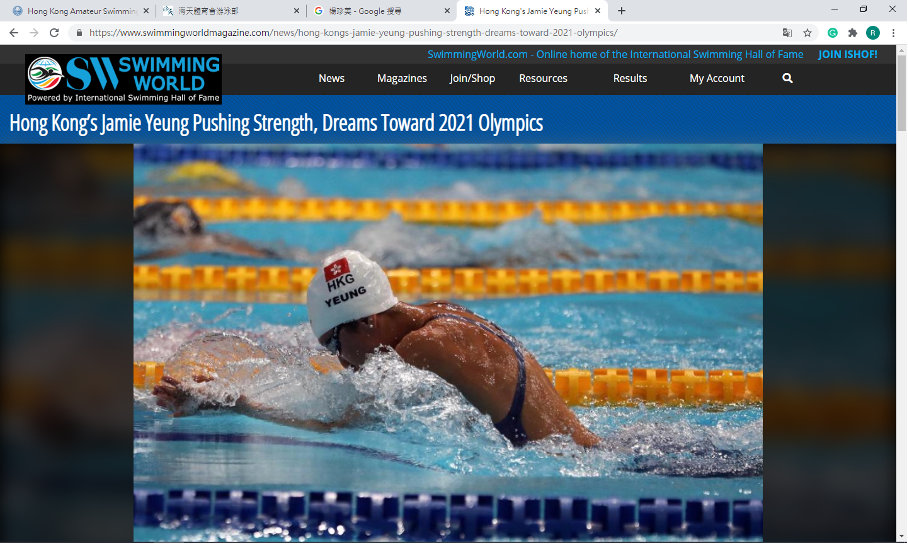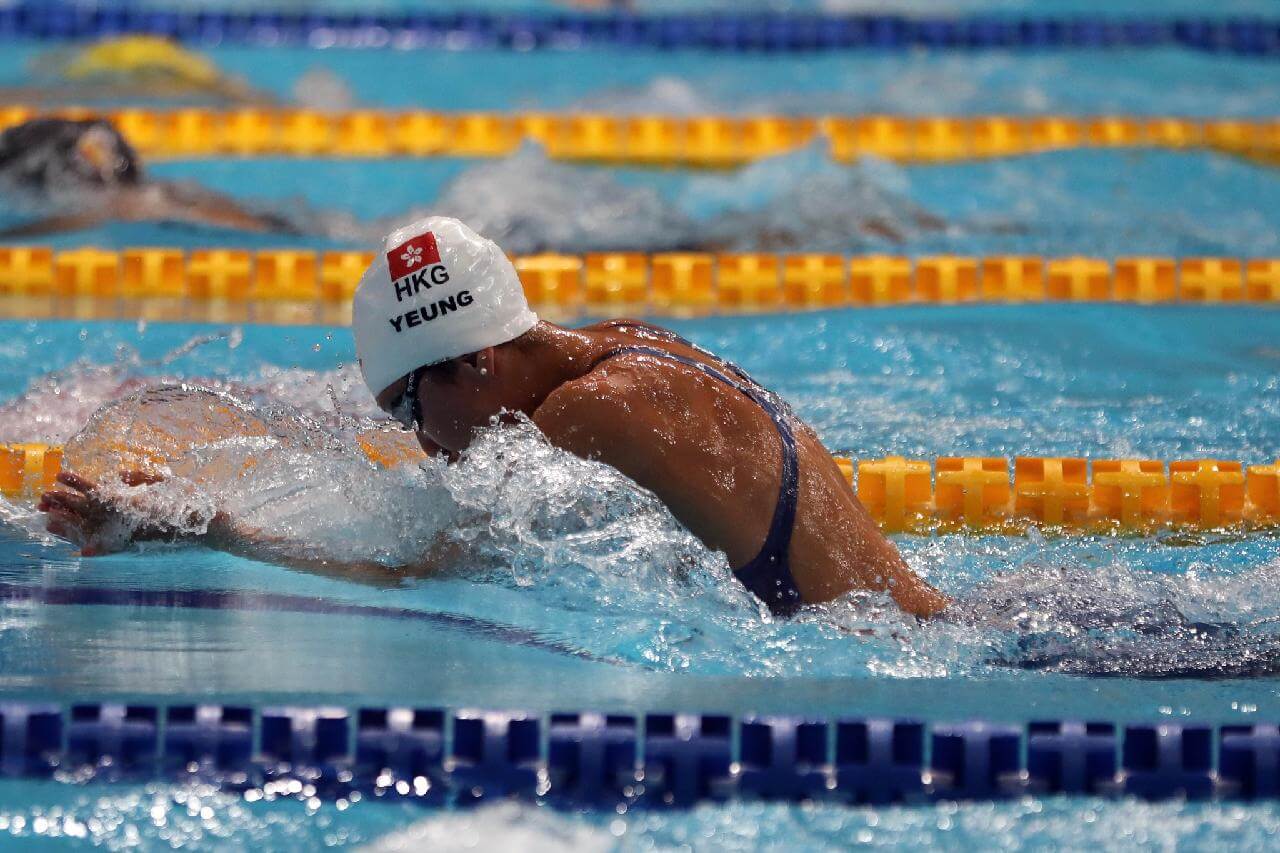 by DAN D'ADDONA — SWIMMING WORLD MANAGING EDITOR

10 April 2020, 10:00am
Jamie Yeung is used to having to make big decisions. Coming from Hong Kong, where in the world would she go to college? Since Hong Kong doesn't have an official Olympic trials, what meet would she try to qualify in?
Now, one year after graduating from the University of Michigan — with the Olympics being postponed to 2021 — the questions don't get any easier.
Hang on swimming for one more year? Go back to Hong Kong? Start a career somewhere abroad?
For now, Yeung is hoping to train for 2021. She has represented Hong Kong a the world championships, but never the Olympics. It would be too difficult to give up that dream now.
"There are many moving pieces I have to think through and work out. Thankfully, I can take a short break and figure out what the next steps are," Jamie Yeung told Swimming World. "My heart definitely wants to complete my dream."
Yeung has been training at Michigan this year with compatriot Siobhan Haughey, who has already qualified for the Olympics.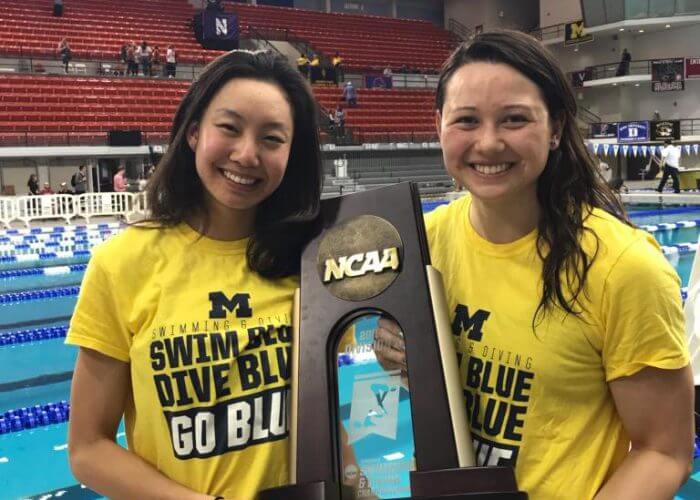 Jamie Yeung (left) and Siobhan Haughey. Photo Courtesy: Jamie Yeung
Yeung is closing in. She was hoping to reach the Olympic "A" standard at the Canadian Trials, but they were canceled because of the coronavirus.
"I think the postponement is the right move. Ultimately the Olympics are important and training is really important, but nothing is more important than the health of the human race. This is about the whole world coming together."
Now, Yeung has another year to try to get her 100-meter breaststroke time from 1:07.86 to the cut of 1:07.08.
"It would mean a lot. It is every athlete's dream, but also it would be proving to myself that not giving up and having faith in the coaches and the process can go a long way," Yeung said. "I could retire without having any regrets. I would be able to retire on my terms."
That proof started during her senior year at Michigan, when she competed at the NCAA championships for the first time and helped the Wolverines finish third. In her one and only NCAA appearance, Yeung reached the B-Final in the 100 breaststroke and finished 10th with a 59.04.
"Having a really strong senior year at Michigan also gave me that confidence to keep myself going for another year," she said. "My taper meet was going to be Canadian trials. I had a pretty clear goal in my mind. I knew what I had to do. While it was hard to train alone with breaststroke sets, it was just me and the clock and I was motivated by my goals. It was challenging but not as bad as I thought."
Yeung has trained hard alongside Haughey, training with the college team. But for the past couple of months it has been much different being the only two post grads.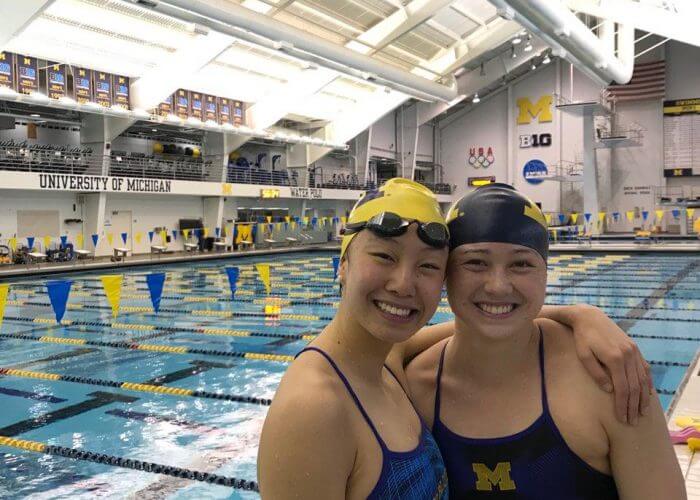 Jamie Yeung (left) and Siobhan Haughey. Photo Courtesy: Jamie Yeung
"At the beginning of the year, we trained with the college team, so I still felt part of that group until they stated tapering to Big Tens," she said.
Working with a friend like Haughey made it easier to put in the time.
"It was really nice to have her by my side encouraging me. It is hard to see us in a lane and the rest of the team not there. We work well together," she said. "I have known her since 2012. We went on competitions together for Hong Kong. She is very disciplined and level-headed. She really keeps me in check as we hold each other accountable. Her being a world class athlete, I can really learn from her. Training with a world-class athlete is pretty cool."
Now, Yeung is looking for that opportunity to prove she is a world-class athlete as well — of course, she already is, having scored at NCAAs and competed at the world championships. But the Olympics is something different altogether.
"Since worlds, I haven't tapered at any meet, so I am not entirely sure where I stand because of my time. But in a positive way, this other year might help me to strengthen my event and stroke and have an even better chance to qualify," she said.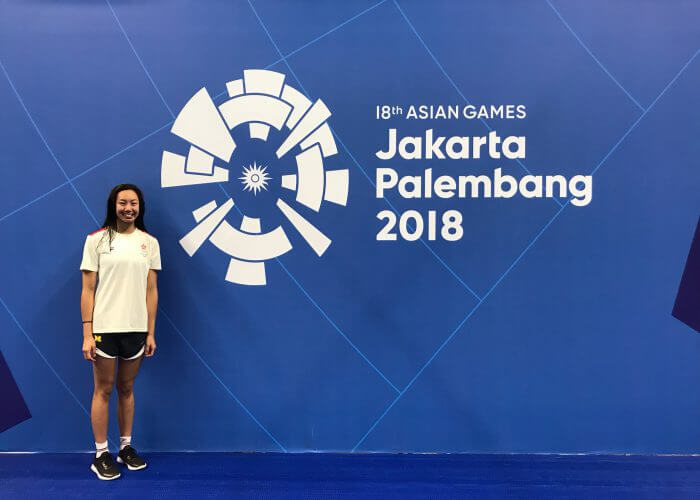 Photo Courtesy: Jamie Yeung at the 2018 Asian Games.
That chance started with a strong performance at the Asian Games in 2018, which landed her a best time in finishing sixth in the 100 breaststroke.
"The Asian Games was one of my most memorable moments as an individual. I hadn't had a best time since before college, but after three years, I finally broke through. It was my breakthrough summer that gave me a boost of confidence going into my senior year." Yeung said. "That was the summer when I really realized I had a shot at making the Olympics."
A chance to wear the Hong Kong cap in the Olympics is what has kept her motivated.
"It is definitely something I am proud of. Hong Kong is in a unique situation, so it is special," she said. "It is a real honor to represent Hong Kong."